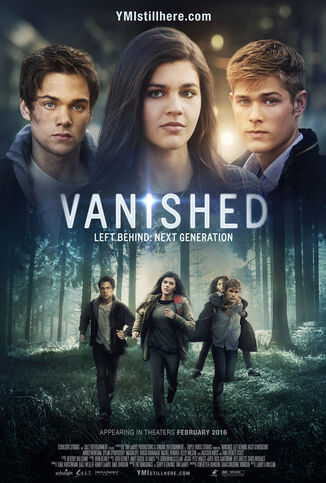 Vanished: Left Behind the Next Generation is a film loosely based on Left Behind: The Kids with a new storyline and characters. Instead of the usual Cloud Ten Pictures or the new Stoney Lake Entertainment, this adaptation is produced by Echolight Studios along with Salt Entertainment Group and Triple Horse Studios. Tim LaHaye's grandson Randy LaHaye who was part of the production team played in the film as Nicolae Carpathia. The film was released as a limited one-day threatical release on September 28th, 2016 through Fathom events at select theatres before being released to DVD on November 15h, 2016.
Trailer
Cast Listing:
Characters from the Series:
New Characters:
Amber Montana

as

Gabby Harlow
Dylan Sprayberry

as

Flynn
Mason Dye

as

Josh Jackson
Keely Wilson

as

Claire Harlow

Tom Everett Scott

as

Damon

Jackson Hurst

as

Eric Harlow

Brigid Brannagh

as

Sarah

Rachel Hendrix

as

Rachel

Nick Caruso

as

Eugene

William Mark McCullough

as

Dwayne

Chip Lane

as

Rex Hargrove
Others:
Daniel Nickels

as a Street Musician

Nicole Davis

as a Pedestrian

Faye Foley

as an Actress

Claire Weinstein

as a Bystander

Luis Costa Jr.

as a Gangster

Lisa Lamb

as a Cashier

Glenn D. Bridges

as a Bus Passenger
Background
In the September 2016 issue of Faith Filled Family Magazine, Randy LaHaye gave an interview and said that he was actually inspired by the Twilight vampire movie series in saying: "While I was watching Twilight, God gave me the idea to use those kids books and take some points out of them. I would create a brand new, fresh, YA version of Left Behind so that it could really speak to today's kids."
His grandfather Tim LaHaye was able to see a screening of the film before his passing and Randy reflected by saying  "One of the proudest moments of my life was when my grandfather saw the movie and told me afterwards, "Finally, there's a movie about Left Behind that captured what made the books so successful.""
Sequels
Trivia
This is the first Left Behind film to not be connected to Cloud Ten Pictures
With an estimated budget of $2,000,000, this is ironically the cheapest Left Behind film adaptation to be made when compared with the other four.
This film was released two years after the 2014 reboot and though they not connected, they could be seen as parallel as to the events of the Rapture.
This film was dedicated to Tim LaHaye after his passing on July 25, 2016, at the age of 90.
This film is based on book 1 of the Left Behind: The Kids series.
Bruce Barnes was the only member of the Tribulation Force that appeared in this movie.
Deaths
Links