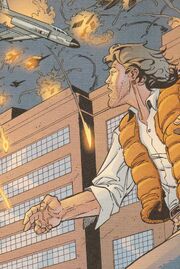 There were two "Gog and Magog" wars that took place in the Left Behind books, both of which were presumably prophesied of in the Bible.
Russo-Ethiopian Attack
The first Gog and Magog war, spoken of in Ezekiel chapter 38, took place some months prior to the Rapture, when Russia launched an all-out assault on Israel to destroy the nation. God supernaturally protected Israel by destroying all of Russia's armaments. Global Weekly news reporter Buck Williams was an eyewitness to this event.
The Last Battle
The second Gog and Magog war, spoken of in Revelation 20:7-10, took place on the last day of the Millennial Reign, when the current generation of The Other Light believers amassed a huge army to surround Jerusalem with, in the hopes that Satan would lead them to victory against God. Their hopes were immediately dashed, though, when God poured out fire from the heavens and instantly disintegrated all of The Other Light troops and their weapons. Satan fell to his knees in defeat and was soon cast into the Lake of Fire.
Community content is available under
CC-BY-SA
unless otherwise noted.